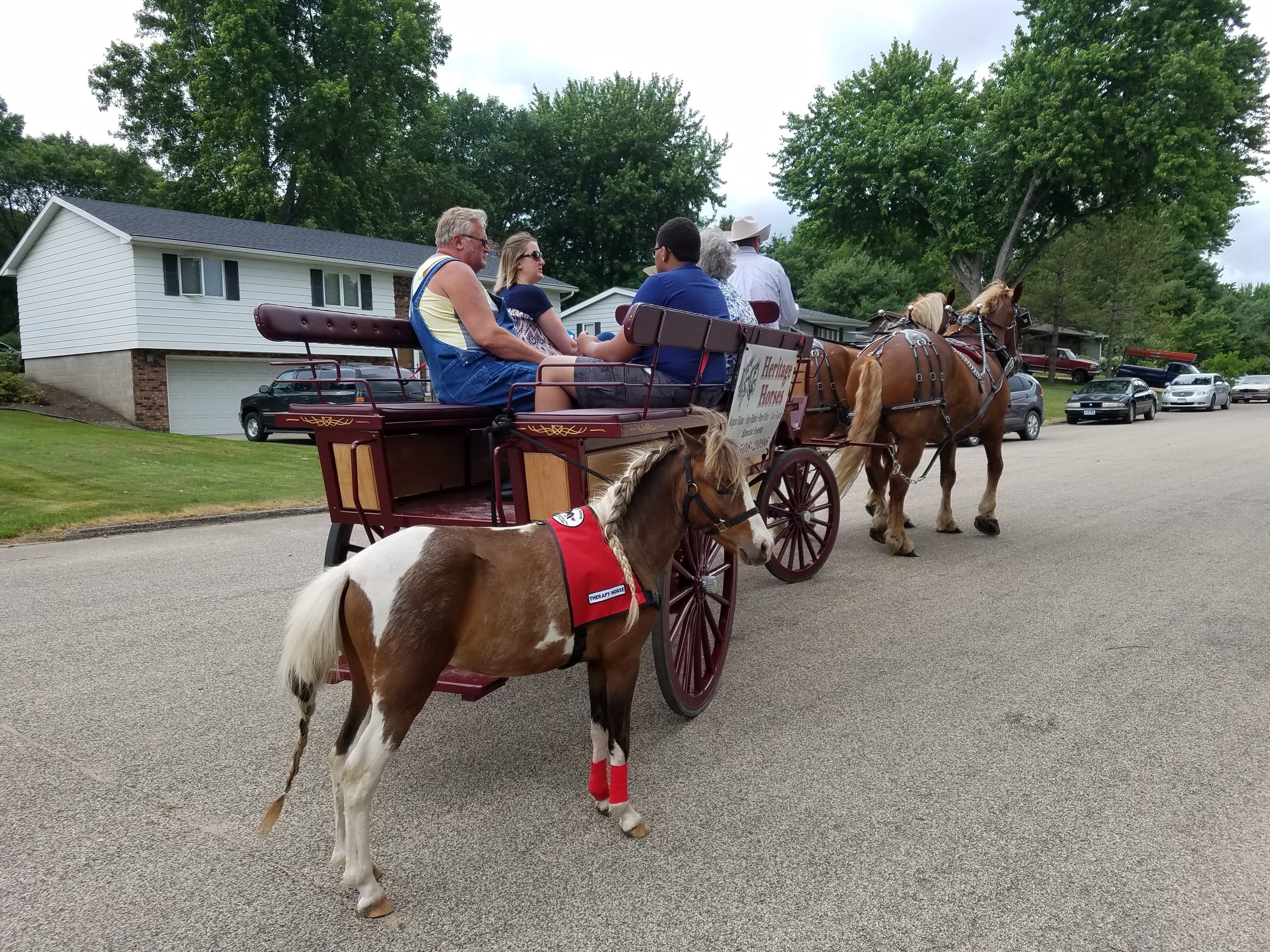 2017 Nicollet Friendship Days Parade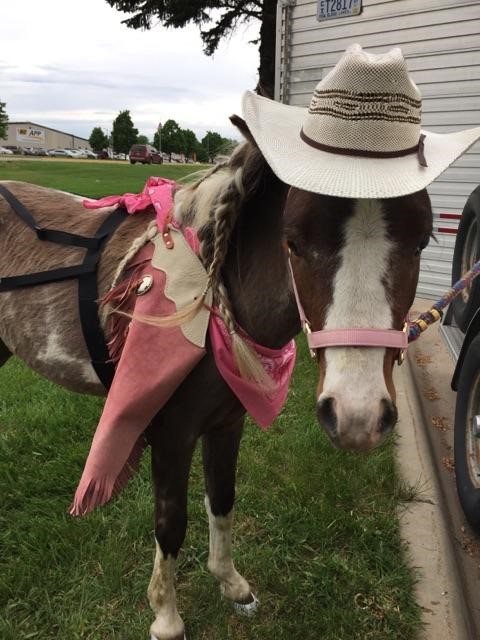 Toby doing a visit in Sleepy Eye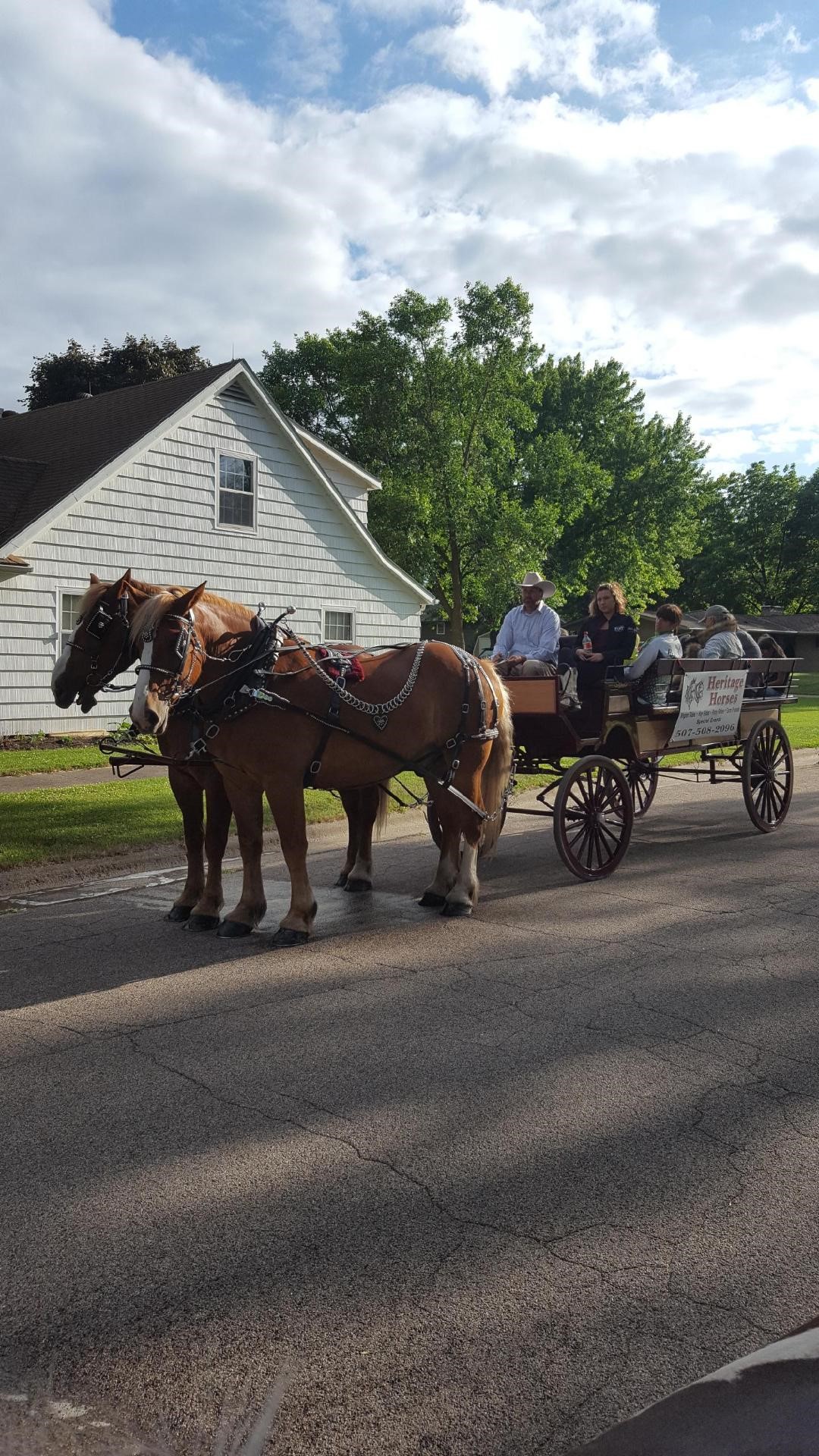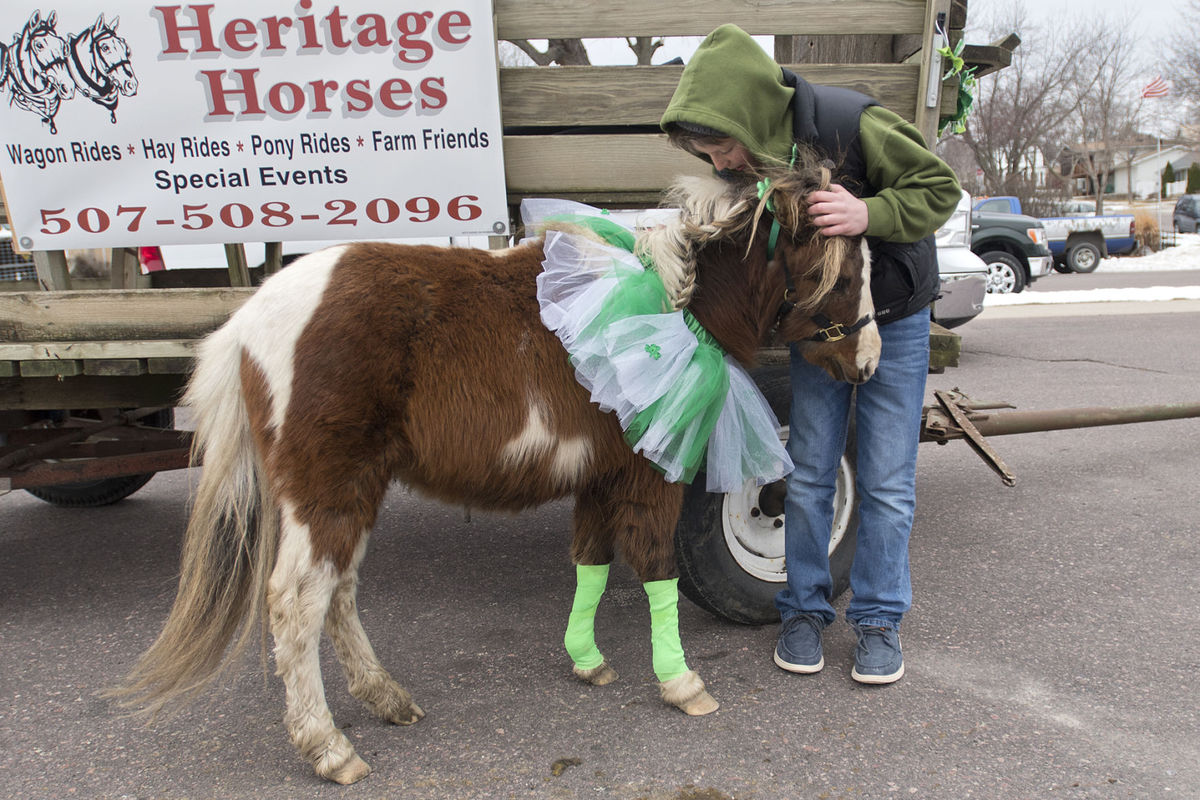 St. Patty's Day Parade in New Ulm
Irish for a Day: New Ulm hosts 52nd St. Patrick's Day Parade
By Trey Mewes tmewes@mankatofreepress.com
Mar 17, 2017
Colton Benson, 11, pets the family's miniature horse Toby before the start of the St. Patrick's Day parade in New Ulm. This was the first year the Benson family participated in the parade with their horses. Photo by Jackson Forderer
Brayden Trapp, 8, wears an Irish flag mustache as he watches the St. Patrick's Day parade along Minnesota Street in New Ulm. Brayden's mother Tiffany Trapp said they traveled from Springfield to see the parade. Photo by Jackson Forderer
Anne Dempsey (center) leads her group down Minnesota Street during the St. Patrick's Day parade in New Ulm. This is the 52nd year for the parade. Anne's relative Terry Dempsey was one of the founders of the annual march. Photo by Jackson Forderer
NEW ULM — There were a few less "jas" in New Ulm on Friday, and a whole lot more green.
Gone was Veigel's Kaiserhoff — it was Don's Pub.
The New Ulm Concord Singers became the O'Concord Singers.
And a town known for its Germanic heritage broke out of its cultural shell for 24 hours to celebrate St. Patrick's Day and the longest continuous St. Patrick's Day Parade in Minnesota.
"I think it's wonderful, because we've had so much fun about it through the years," said Mary O'Connor.
Mary's husband, Bill O'Connor, was part of a group of Irish attorneys who started the parade in the 1960s. As legend holds, O'Connor was at the Kaiserhoff with Tom Donnelly and Terry Dempsey one day in 1966 when they got to talking about New Ulm's German pride.
"They got joking about how the Germans were so crazy about their heritage, and they talked about it all the time," Mary O'Connor said.
The merry pranksters decided they too, would play up their heritage as a way to rib their German neighbors. They organized a parade starting at 3rd Street South and Minnesota Street, going the wrong way up Minnesota, and ending at New Ulm's famous Glockenspiel.
Since that first parade, New Ulm's Irish tradition has grown into a major springtime event, with its own traditions and heritage.
"It's always good," said John Fritsche, the 1st Lt. of the New Ulm Battery. "Anything you do for the betterment of New Ulm, and to advertise New Ulm, it's always good to do it."
Fritsche has marched in the parade every year since he joined the Battery in 1966. The Battery brings its artillery cannon — built in the 1850s with no major restoration since then, as Fritsche notes — to each parade.
There are other events that have sprung up over the years. Bill O'Connor went out of his way to submit an annual article to the New Ulm Journal, poking fun at various civic events and local customs. As expected, it would usually be taken with a mix of good cheer and mild offense, according to Mary O'Connor.
Bill O'Connor's annual column continues on, despite his death in 2008, as New Ulm Journal Editor Kevin Sweeney writes the column each year.
Yet for every tradition, there's always something new. This year, staff and animals from nearby Heritage Horses marched in the parade.
"We just wanted to support the St. Patty's Day fun," said owner Shirlene Hvinden. Hvinden and family brought Belgian horses Doc and Dan, as well as Toby the miniature therapy horse, into town.
Continuing the fun is an important part of the parade, according to New Ulm Mayor Robert Beussman.
"This is a great tradition for us," he said. "If you want to be honest about it, I'm going to be straightforward and say it proves to the world that we're not all German. It proves to the world that we don't have to be German."